Robustness Validation – EEModules + Systems
For the ZVEI, electric vehicles are a key to the climate- and environmentally-compatible mobility of the future. Reliable and constant general conditions in particular are essential to make Germany the lead supplier in this field.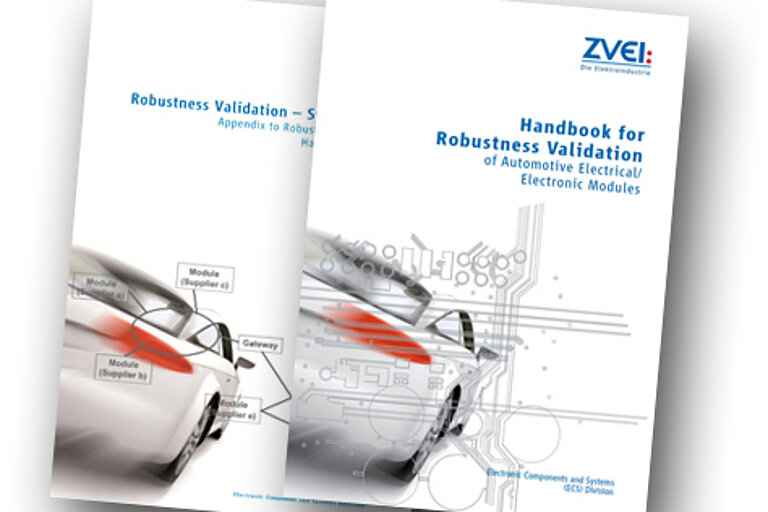 Robustness Validation EEModules (2nd edition)
Whereas the first Handbook is about the validation of semiconductors and electronic components in general, the second Handbook is concerning about Robustness validation of stand-alone Electronic Control Units.
More than 140 pages documented the practical application, methods of extrinsic reliability detection and prevention of Failures. This Robustness Validation Handbook provides the automotive electrical/electronics community with a common qualification methodology to demonstrate robustness levels necessary to achieve a desired reliability according a Zero Defect Strategy.
Although this document primarily deals with electrical/electronic modules (EEMs), it can easily be adapted for use on mechatronics, sensors, actuators and switches.
Knowledge Base EEM / ECU
In order to apply and interpret the results of the Robustness Validation process, knowledge of the basic failure mechanisms of the electrical/electronic module is required.
The EEM Knowledge Matrix lists known systematic failures mechanisms, i.e., failures that are systemic or inherent in the product by design or technology. It is a collection of the lessons learned by the organization using the Robustness Validation process.
Component Process Interaction Matrix
The understanding of how a manufacturing process can reduce or affect the robustness of a product related to the mission profile is essential for its' intended use. The Component Process Interaction Matrix is a tool which allows the evaluation of critical attribute interactions, the CPI – Matrix.
Robustness Validation System Level
This publication (as an Appendix to RV Handbook for EEM) focuses to the validation of robustness of a group of two or more interacting Electronic Control Units respectively Electrical/Electronic Modules.
Intelligent Testing Table:
The intelligent testing table shows where an optimization of the test procedure from module to the complete car is possible. It can be used as a guideline along the complete validation flow: